Investment Thesis
The stock of Extreme ultraviolet (EUV) lithography machine supplier ASML Holding N.V. (ASML) came under pressure recently. Coupled with the uncertainty caused by its recent fire and its premium valuations, investors pared down their exposure in the company.
Nevertheless, we believe that the company's leadership grip in the wafer fab equipment (WFE) market remains robust. Moreover, its monopoly over its EUV lithography machines would likely continue to support its premium valuation against its broader WFE peers.
ASML stock has also dropped almost 20% from its all-time high (ATH). Therefore, we believe that it offers another opportunity for investors to add exposure to this fantastic company.
How Will The Recent Fire Affect ASML's EUV Machine Supply?
ASML updated on 7 January following the fire that affected its factory in Berlin on 3 January. The company noted that it has partially recovered production in the affected buildings, while those not affected continue to be fully operational. It has also restarted the production of its deep ultraviolet (DUV) lithography systems and does not expect any material impact on its output and revenue guidance.
However, the company also noted that production on its EUV lithography systems could be affected, and the impact is undisclosed at this point. ASML emphasized (edited):
The fire affected part of the production area of the wafer clamp, a module in our EUV systems. We are still in the process of completing the recovery plan for this production area and determining how to minimize any potential impact for our EUV customers, both in our output plan and in our field service. (NASDAQ:ASML)
The company indicated that it would update investors at its FQ4 earnings call on 19 January. Therefore, we encourage investors to monitor ASML's updates closely.
Consequently, investors took the opportunity to pare down risk and return ASML stock to the lows it last traded at in October. Given that ASML has been trading at a premium against its peers, such a sell-down should not be surprising. Any potential fallout over its critical EUV lithography systems cadence could hamper its revenue and profitability outlook, adding pressure on its premium valuation.
Notably, ASML has not restarted production for its wafer clamps. Therefore we cannot rule out the possibility of sufficient damage caused that has hampered ASML's ability to resume production. Consequently, it could affect the company's ability to meet its EUV systems' production guidance in 2022 and the supply of spare components.
TrendForce also highlighted that ASML could be forced to change its supply cadence and customer fulfillment. It added (edited):
Currently, the majority of components produced at this factory go towards supplying EUV machines while the lion's share of demand for these products comes from foundries. If the fire delays component delivery, it cannot be ruled out that ASML will prioritize the allocation of output towards fulfilling foundry orders. The lead time on ASML EUV equipment is approximately 12 to 18 months. Due to this long equipment lead time, ASML is at liberty to wait for the completion of replacement components for those lost in the fire during the time necessary for equipment assembly. (TrendForce)
Therefore, while we cannot rule out a significant delay, we think investors had overreacted. First, there's no one else that can produce EUV lithography machines. Second, TSMC (TSM), Samsung (OTC:SSNLF), SK Hynix, and Intel (INTC) will need to depend on ASML's EUV systems for its leading process. Therefore, ASML's grip on this market is exceptional and its lead time can be up to 18 months. As of December, the average chip supply lead time highlighted by Susquehanna Financial Group reached 25.8 weeks, another record. But, compared to the 12-18 months lead time as indicated by TrendForce, we think TrendForce's opinion that ASML can wait to replace the damaged components before resuming production is credible. We don't think there is anything that foundries like TSMC can do other than wait.
Moreover, ASML is Still Estimated to Gain Leverage
ASML guided for an output of 55 EUV machines in 2022, which could be revised if the damage was significant. But, we believe that any downward revision is unlikely to impact its mid-term guidance significantly. In addition, ASML has presented a clear runway towards 2025 when its leading customers would then begin deploying its High-NA EUV systems for their sub-3nm process. Therefore, we believe the runway ahead for ASML is clear, and we think that investors shouldn't be unduly concerned.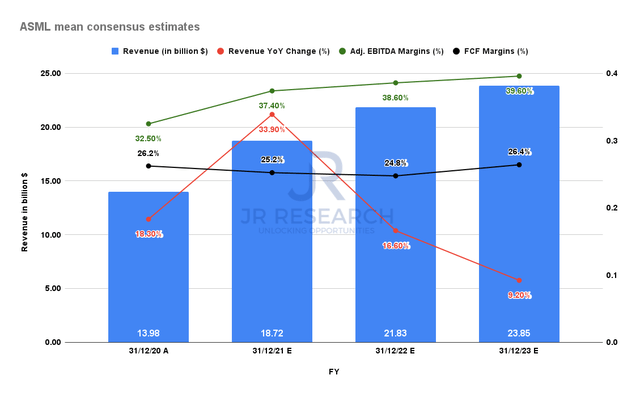 Moreover, we can also glean that ASML is still expected to gain operating leverage even as its revenue growth decelerates through 2023. Moreover, its FCF profitability also remains solid, lending further credence to its robust business model. TSMC showed us that it is ramping its CapEx significantly, seeing strong demand in 5G and high-performance computing. Such investment would benefit the WFE leaders broadly. We think it would also benefit ASML if TSM channels more of its CapEx towards EUV systems. "ASML estimates that a modern logic fab requires 9 to 18 NXE:3600D machines depending on capacity." Therefore, investors should continue to monitor TSMC's CapEx spending allocation carefully.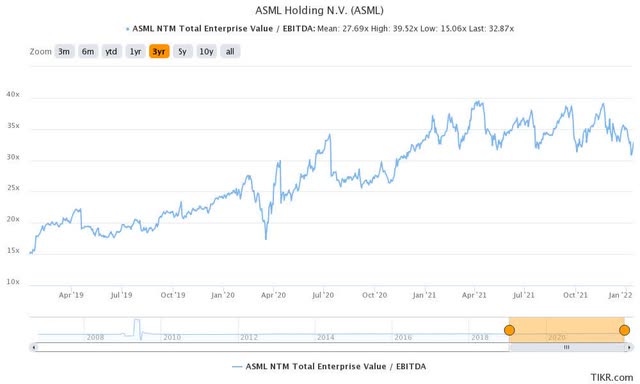 ASML stock is trading at an EV/NTM EBITDA of 32.9x, which is higher than its 3Y mean of 27.7x. Therefore, some investors can argue that ASML's valuation still seems pricey. Nonetheless, readers can also glean that its stock has been supported whenever its valuation reached 30x NTM EBITDA throughout 2021. We don't see any particular reason for considering why the market would de-rate ASML stock significantly, given its critical role in the foundry value chain for logic and memory.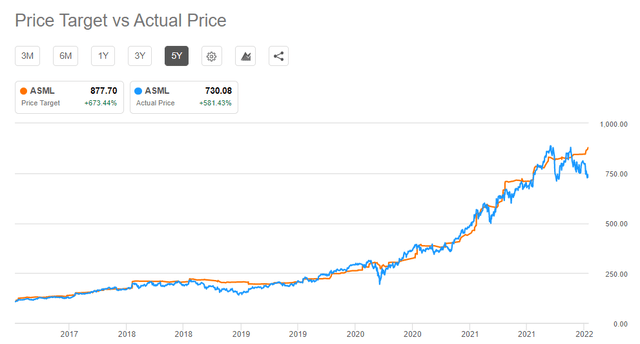 Moreover, we also observed that the valuation gap between the consensus price target (which has been revised upwards consistently) and its current price is the most significant since 2020. Therefore, we believe that the recent weakness and uncertainty over ASML stock price could offer an exciting opportunity for investors to add exposure.
Therefore, we revise our rating on ASML stock from Neutral to Buy.
Source link