Introduction
In December 2020 I wrote an article about Opendoor (OPEN) here on Seeking Alpha. A lot has happened in the iBuyer business segment as well as with Opendoor since I wrote that article. In this article I want to review everything that has happened as well as review my first article to see if anything has occurred over the last year to change my mind about the company and the iBuyer business.
Review of Opendoor and the iBuyer Business in 2021
A lot has happened in the last year for both Opendoor and the iBuyer business. Opendoor has grown their real estate inventory from $465.9 million at the end of 2020 to $6.3 billion at the end of October 2021 (per Opendoor 3Q '21 10-Q, and 2020 10-K). That's a growth of over 12X in real estate inventory. One of Opendoor's biggest competitors in the iBuyer space went public in Offerpad (OPAD). We learned last year that Zillow was offloading iBuyer purchased homes to corporate mega-landlords before the public even had a chance to see them. Recently we've learned that Opendoor and Offerpad have been doing the same thing, more or less. Lastly, we learned in the fall of 2021 that Zillow has decided to completely exit the iBuyer business altogether after the segment lost over $200 million in 3Q 2021 before operating expenses (Zillow 3Q 2021 10-Q).
First, I want to discuss my concerns/opinions about iBuyers offloading their real estate inventory to large corporate landlords. What I'm not going to discuss in detail here though is the principle of offloading single family homes to huge corporate entities and whatever impact that may have on the affordability of buying a home. I do find it interesting that Opendoor and Offerpad have chosen not to comment on these transactions, but any negative perception that these transactions create is subjective and hard to measure. From a business perspective, I actually think these transactions are a smart move for iBuyers. Real estate inventory is a necessary evil for iBuyers, at least for now. Inventory right now represents iBuyers' largest risk by far, in my opinion, so Opendoor and Offerpad are smart to offload their biggest risk on other parties as long as those other parties are willing to buy it.
But therein lies my biggest concern: How long will these large corporate landlords be willing to keep funneling capital into single family homes? Will they just keep buying the inventory at the rates they're currently buying at going forward? I don't know the answer to the first question, but I'm confident the answer to the second question is NO. Why am I confident that corporate landlord capital will slow down in the coming months/years? Simply because interest rates are projected to rise starting in 2022. What effect do interest rates have on assets? To quote arguably the best investor of all time, Warren Buffett:
Interest rates are to the value of assets what gravity is to matter
Simply put, as interest rates rise, the incentive to invest capital in real estate assets gets worse while the incentive to invest in real estate debt (and other debt) gets stronger. Now it should be noted that these corporate landlord parties represent only ~20% of homes sold by iBuyers last year. Regardless, this slowdown of capital being funneled in by large institutions could hinder the big growth plans of Opendoor and other iBuyer companies.
The second big subject I wanted to discuss that happened in 2021 is that of Zillow exiting the iBuyer business. I found Zillow's exit to be quite peculiar. Here is a spreadsheet I made comparing the gross margins of the 3 largest public iBuyers:
Clearly, all of the iBuyer companies' gross profit dropped in Q3 2021. However, Zillow's iBuyer segment gross profit margin dropped significantly more than both Opendoor and Offerpad's gross profit margin. This is just so strange to me. Now, some would argue that this proves that Opendoor and Offerpad just have better pricing algorithms, or are just better run businesses. To me it almost looks like there was a glitch in Zillow's pricing code, or something similar. Mike Delprete argues that Zillow just plain overpaid for properties and was forced to sell them at a loss.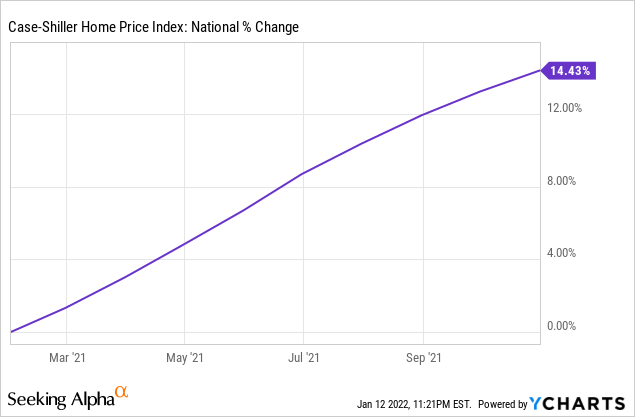 Looking at the Case-Shiller home price index for the year, this explanation baffles me. On average, home prices in the US appreciated over 14% last year. That means Zillow had to overpay quite significantly on properties they bought earlier in the year. Other than a glitch, I can't think of any explanation for what happened here. I do feel like there might be more to the story here that isn't being publicly disclosed by Zillow management though.
Review of my last Opendoor article
In the first article I wrote about Opendoor, I had a number of questions I wanted to answer about the company in order to understand if it could be a good investment.
The first topic I questioned was whether Opendoor offered a service that was both more convenient and less expensive than that of selling through the traditional process. I basically concluded that selling your home to Opendoor is much more convenient, and on the surface, is cheaper than that of the traditional process of selling a home. I also found that selling your home to Opendoor off of the market voided your opportunity to see what price the open market might set, which might well exceed the price Opendoor was willing to offer. My opinion in the end was that listing one's home through Zillow, Redfin, or even Opendoor offers the best combination of better convenience, and lower costs than the traditional process while not sacrificing the opportunity to price your home on the open market. Has anything changed my mind on this question? Not really. I still feel like listing your home through online service such as Zillow, Redfin or Opendoor offers the best of both worlds. Though I do see the value in the iBuyer service to those who want the absolute most convenient and quick option possible.
Another question I wanted to answer was whether Opendoor has any competitive advantages. I concluded in the first article that I didn't believe Opendoor had any competitive advantages in the iBuyer space. My mind has changed a little since I wrote the original article. Though I can't explain it, the evidence is pretty clear that Opendoor outperformed Zillow Offers in terms of gross profit margin. However, Opendoor and Offerpad's gross margins have been very similar. Given Opendoor's much larger market share, I still would have to say they have a competitive advantage for now at least.
On the topic of growth, in my first article I expected the company to start growing significantly again in 2021 after a temporary pullback in business in 2020. Opendoor has grown their business significantly in 2021, just as management projected:

Has my mind changed on how much I think the company will continue to grow since December 2020? Yes and no. I do think the company will continue to grow and gain market share of the real estate transaction business over the next 5-10 years. However, as I mentioned in the last section of this article, I think the iBuying industry and Opendoor may hit a hurdle or 2 over the next couple of years due to the rising of interest rates. I also still question just how much market share of all real estate transactions that Opendoor and iBuying will capture.
Lastly, I questioned Opendoor's profitability. Opendoor didn't produce GAAP operating profit or net profit in either 2020 or for the first 9 months of 2021. At the time of writing the first article, I definitely had doubts about Opendoor's ability to become consistently profitable. I was also concerned with the effect on profitability when the company decided to fix their service charge at 5% starting in September 2020 instead of keeping it variable. Management has chosen to mainly discuss their profitability using their non-GAAP metric – Adjusted EBITDA margin. Using that metric, you can see that their profitability has improved from being negative to positive over the last 5 quarters:

Just to be clear, Adjusted EBITDA excludes costs such as stock-based compensation, interest expense, and origination fees from their calculations.
So has my opinion changed about Opendoor's profitability since my last article? I'm convinced now that Opendoor can be GAAP profitable eventually, but I still think the company will need to increase their market share in adjacent products such as title services and loan origination in order to increase profit margins.
How do I value Opendoor now?
In my last article I started this section off by clarifying that valuing an unprofitable company is almost impossible to do with any real accuracy. I still firmly believe this idea to be true. This stock is an extremely speculative stock. In the last article, I tried to value this stock based on what the market valued Zillow Offers at the time. Not only is that not possible to do going forward, I think it proved to be a useless attempt to value the company. A lot of other authors have tried to use Price/Sales ratio as compared to that of Zillow and Redfin's Price/Sales ratio: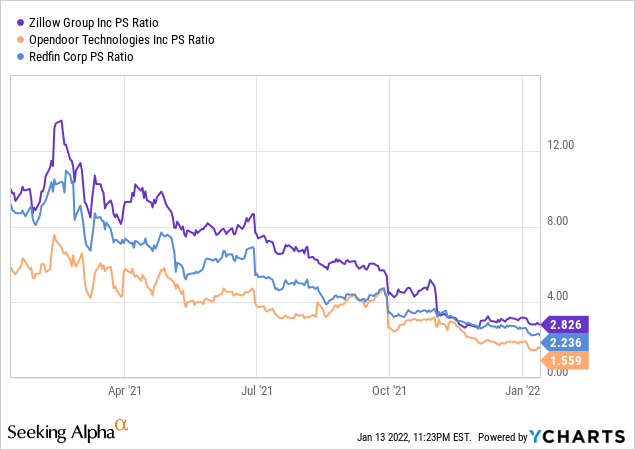 Opendoor obviously looks undervalued using that method of valuation. I disagree with this valuation methodology though since Zillow and Redfin's businesses produce higher gross profit margins: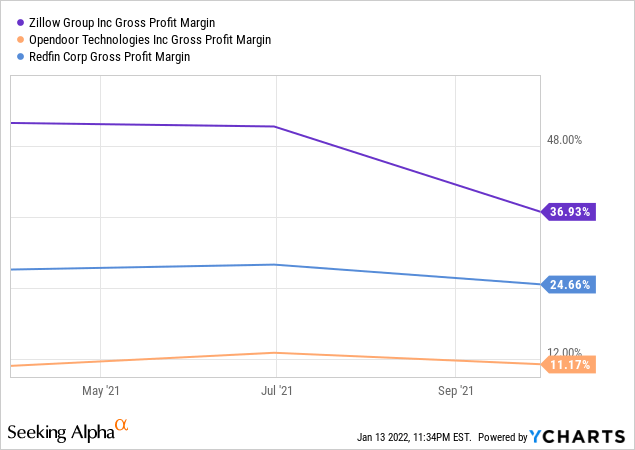 I think Opendoor's P/S ratio should be compared to other businesses that produce gross margins of 5-15%. Automotive dealerships happen to produce similar gross margins: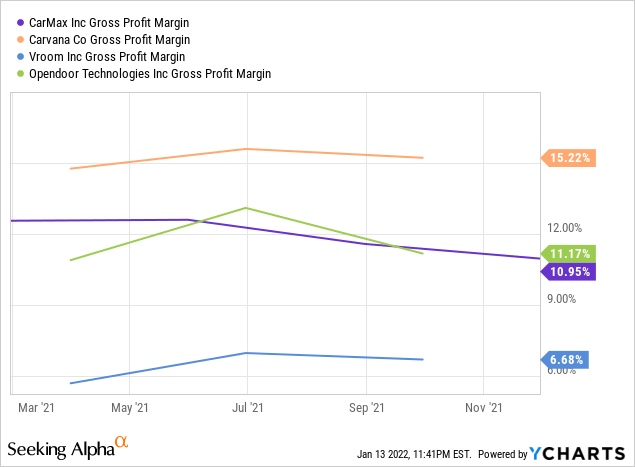 As you can see in the above chart, these companies all fall in the same gross margin range I mentioned above more or less.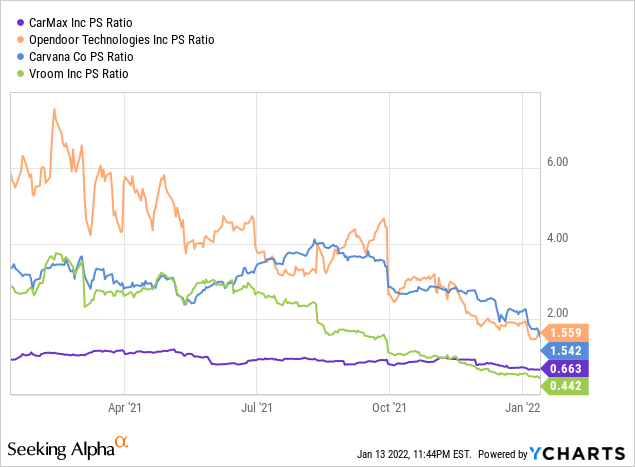 When comparing P/S ratio for Opendoor to CarMax (NYSE:KMX) and Vroom (NASDAQ:VRM), Opendoor actually looks expensive. Opendoor and Carvana (NYSE:CVNA) are both priced at similarly higher valuations. But what about growth? Do Opendoor and Carvana deserve higher valuations due to higher growth rates?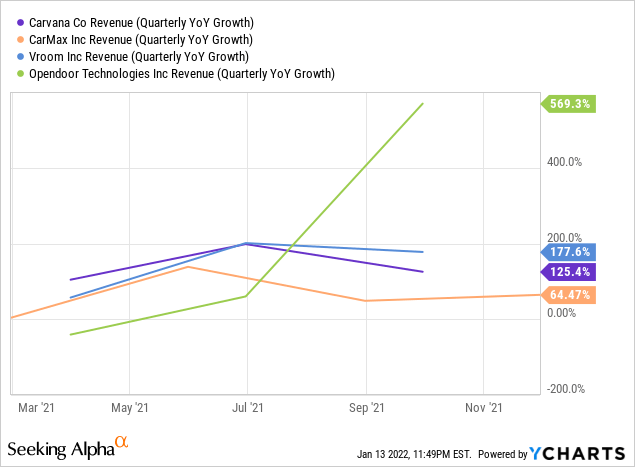 Obviously, Opendoor's growth was much higher than Carvana, Carmax, and Vroom in 3Q 2021. But prior to 3Q2021, Opendoor's growth was significantly lower. I'm not sure any conclusions can be drawn from the above graph, other than all of these companies are growing at a high rate right now. What about profit? Are any of these companies profitable?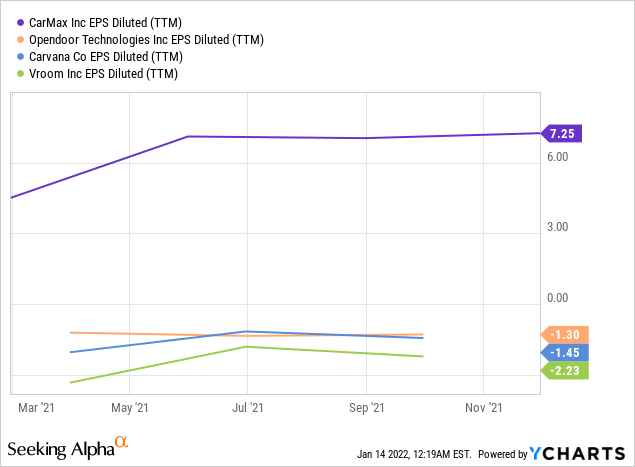 As you can see from the above graph, Carmax is the only company actually turning a GAAP profit right now. The other companies are growing faster, but how much longer will the stock market keep rewarding high growth companies with higher valuation when they keep losing money? Until companies like Opendoor and Carvana can prove they can profitably grow their businesses at a higher rate, I wouldn't be surprised to see OPEN and CVNA's P/S ratios continue to drop and approach a P/S ratio similar to that of KMX (P/S ratio of .6-.7).
Conclusion
Overall, my conclusion on Opendoor hasn't changed a whole lot since I wrote my first article on the company back in December 2020. I still believe the market for online real estate transactions will continue to grow, and the iBuyer business will continue to grow with it. But I'm definitely still not convinced iBuyers will grab most of the share of those online real estate transactions. I still think there is significant risk in the iBuyer business model. Opendoor and Offerpad have offloaded some of that risk, but how much longer can they rely on institutional money to keep buying 20% of their inventory? Lastly, I think the market has punished Opendoor's stock price and may continue punishing Opendoor's stock price until the company can prove it can grow profitably and control risks in a higher interest rate environment.
Source link