[ad_1]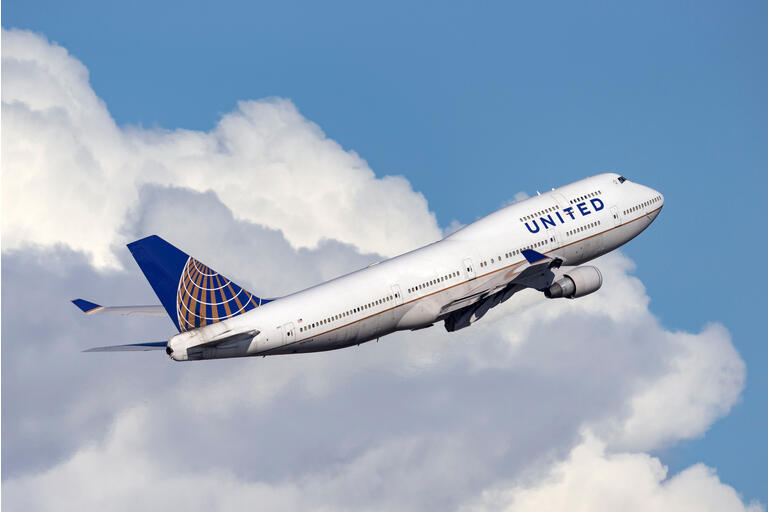 Investment Thesis
United Airlines Holdings, Inc. (NASDAQ: UAL) provides domestic and air transportation. The airlines industry has faced many headwinds this past year – travel restrictions, low passenger volume, high fuel costs, staffing shortages, overtime staff pay, etc. United has not been profitable since the start of the pandemic, and its recovery has been repeatedly interrupted by the emergence of new coronavirus strains. The stock now represents a good value investment for a relatively near-term gain because:
Travel, especially business and international travel, is predicted to pick up during the

latter half of the year, and this should particularly favor major airlines, such as United, who specialize in these routes.

United saw improving profitability over the course of 2021 despite severely depressed business and international travel.
Stock price is still recovering from the Omicron outbreak, giving it plenty of upside as travel volume increases.
Positive Near-term Outlook as Travel Picks Up
Moody's analysts describe a positive outlook for global air travel in 2022. They predict revenue for the 20 airline companies that they rate will increase to $275 B in 2022, representing a 60% YoY increase from $165 B in 2021. MKM Partners expects capacity to be flat with 2019, allowing the industry to generate a modest profit. Key to this recovery will be an increase in traveler volume.
Leisure travelers no longer appear to be strongly deterred by coronavirus. Leisure and regional travel rebounded in 2021. The US, Europe, Canada, and Australia have seen travel upswings during periods of eased travel restrictions. Even as the Omicron and coronavirus cases surged 35% across the US to near-record levels during peak holiday travel in December, air travel remained strong at 85% of 2019 levels. Furthermore, the rapid spread of the Omicron variant should peak in the coming weeks, based on the trend that previous infection spikes have typically run between 10 and 15 weeks.
Now corporate and international travel appears to be on the road to recovery in 2022. The US lifted a large international travel ban in November and travel bookings recovered to 70% of pre-pandemic levels, with half of that attributed to international travel. Analysts also see the possibility of pent-up demand due to depressed travel over the past 2 years. Business travel is predicted to jump 37% and fully recover in 2024. Deloitte reports that nearly 9 in 10 companies expect to reach 75% of the 2019 quarterly travel spend by end of 2022. Hotel chains report steady improvements in corporate travel bookings. All of this is great news for United, since pre-pandemic corporate fliers accounted for up to 75% of airline profits for the major airlines. Projections for US corporate travel spending and a matrix showing long-term impact on different types of business travel are shown below.
Recovering Profitability
Geographically, United was in the poorest position during the pandemic and stands the most to gain from the 2022 recovery. More than other major airlines, United relies on business coastal hubs and international travel. Domestic and Latin revenues, which have recovered much more quickly in 2021, are the smallest for United in percentage terms. Atlantic and Pacific routes, where United is the largest, have been the most hurt by travel restrictions and low demand.
Despite the tailwinds, United revenue improved steadily through Q3 2021, and EBITDA returned positive in Q3 for the first time since the start of the pandemic. With continued leisure travel and improved business travel in 2022, United is likely to return to profitability in the later part of the year. Other large airlines, which also rely heavily on corporate and international travel, similarly see some return to normality this year. Delta just offered guidance for 2022 profitability, with Q1 revenue to be 72-76% and capacity to be 83-85% compared to same quarter 2019, with profits expected in Q2, Q3, and Q4. United results for Q4 and guidance for 2022 can be expected during their conference call update on January 20.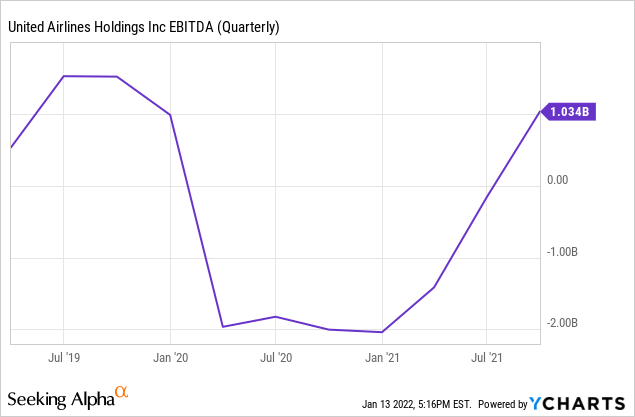 Valuation Doesn't Reflect the Recovering 2022 Prospects
Meanwhile, stock price has been strongly correlated with coronavirus news. Stock price appeared to be recovering from the 2020 pandemic lockdowns during the early half of the year, and airlines started to announce profitability. Then the appearance of the Delta variant in summer 2021 brought United stock price down from the mid-$50's to mid-$40's. Stock partially recovered, but then fell again from roughly $50 to $40 following the appearance of the Omicron variant in November 2021. Price recovery appears to be underway in the past month, and I expect that trend to continue into 2022.
Intrinsic Valuation
At its current price point of $48.17, a recovery to the mid-$50's level of Q2 2021 suggests an approximate 15% upside from its current level ($55/$48.17). A recovery to its pre-pandemic low-$90's level suggests an approximate 87% upside from its current level ($90/$48.17). I anticipate that the price will readily appreciate its 2021 highs over the next year, and then gradually appreciate closer to its pre-pandemic level over the next several years as travel normalizes.
Risks
Obviously, the recovery of air passenger travel is difficult to predict. Early projections underestimated the length of time it would take to recover from the pandemic, predicting office returns and normalizing travel by late 2021. Yet these have been delayed upon the appearance of new virus strains. Even after recovering from the Omicron variant, more new strains are likely to emerge which may further delay recovery. Also, it remains a wide open question as to what will be the final "normal" level of business and international travel. However, most analysts expect a significant amount of business travel will return over the next several years. International leisure travel is also likely to return to pre-pandemic levels over time.
Margins have been significantly compressed by high fuel costs and staffing shortages. General shortage in the labor market, illness, and fear of illness have all made staffing difficult, and United has often had to offer significant overtime pay in order to staff their flights. These are issues are likely to remain in the very near-term, but I expect them to resolve over the longer term as market conditions normalize and coronavirus treatments improve.
More rapid recovery of domestic leisure travel has favored smaller airlines (Southwest, Spirit, Frontier, JetBlue, etc,) that specialize in these markets, while forcing the larger airlines to cut capacity. This could reduce market share of the larger airlines and put downward pressure on ticket prices. These trends may compress margins and lower United's operational efficiency.
Conclusions
The past couple of years has been extremely difficult for airlines, and recovery has been interrupted by each successive outbreak of a new coronavirus strain. However, leisure travel made significant rebounds in 2021, while business and international travel volume is expected to improve in 2022. This will particularly benefit United, which is geographically oriented towards coastal business travel and Atlantic/Pacific international travel. I expect stock price to recover to somewhere between mid-year 2021 and pre-pandemic levels, giving an upside of 15-25%.
[ad_2]

Source link